Our Story
We have a combined experience of over 10 years in renovations and home improvements and work in Edinburgh and throughout Central Scotland.
Recommendations are the lifeblood of our business and we aim to delight you so you get a perfect result and feel confident in passing our details on to people you know.
Whether you want to breathe new life into your home or commercial premises, you'll benefit from the qualities below when you hire us.
We are proud to be an Edinburgh Trusted Trader

WE PRIDE OURSELVES ON OUR SERVICE

Trustworthy
We never let our clients down. Your peace of mind is important to us and you can trust us to deliver exactly what we say we will for the price quoted. We also have full public liability insurance cover for all the projects we work on.
Passionate
Your project will receive our undivided attention and commitment. We appreciate that even the smallest details can make a huge difference, so we always strive for perfection.
Meticulous
If a job's worth doing, it's worth doing properly. We carefully choose our suppliers so your job is completed using high quality materials.
Respectful
Throughout our work and on completion, we'll minimise disruption to your property and lifestyle and always clean up carefully after ourselves.
Punctual
We respect your time and will arrive ready to work when we say we will.
OUR TRACK RECORD SPEAKS FOR ITSELF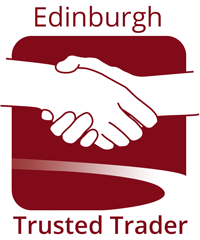 We are Officially Trusted Traders!

We've recently been accepted into the hallowed halls of our exemplary peers in this industry, and have been granted the elusive, and rather difficult to earn, Edinburgh Trusted Trader badge! 
We are proud to serve our Edinburgh customers, and this badge, signifying the high standards to which we hold ourselves, is our reward! 
If you'd like to check out our Edinburgh Trusted Traders page, which contains up-to-date reviews from our customers, as well as our service and contact details, please head to their website HERE.
Whatever work you need done in your home or commercial premises, contact us and we'll arrange a convenient time to come and give you a quote.